The top bar is located in the top section of the header and gives you the option to display the current date, sign in/join, top menu and social icons sections.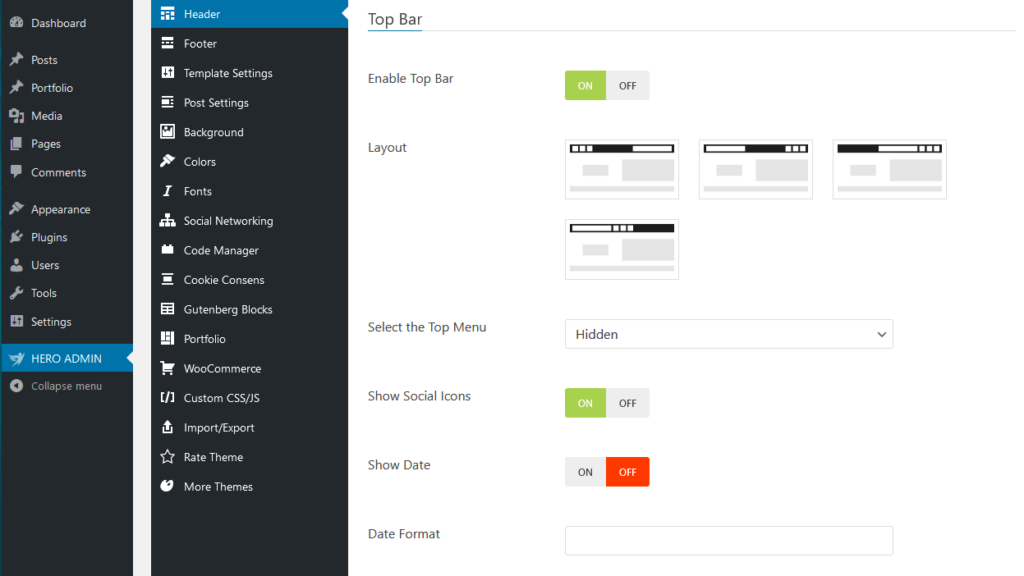 Top Bar Templates Options
This section comes with multiple customization options, that you can find in HERO ADMIN > Theme Panel > Header > Top Bar.
The Top Bar theme panel section contains the following options:
Enable the Top Bar – The theme comes with the Top Bar enabled by default.
Top Bar Layout – chose the order in which the top bar elements are displayed.
Show Top Menu – This option allows you to enable or disable the menu in the top bar.
Select the Top Menu – You can decide what menu you want to display in the top bar section.
Show Social Icons – In the top bar, you can add Social Icons. The social icons can be configured from HERO ADMIN > Theme Panel > Social Networking
Show Date – You can display the date in the top bar.
Date Format – After you decide to add the date in the top bar, just type the desired format to display it.
After you finished customizing this section, click the Save Settings button.